See on Scoop.it – Alberta, Canada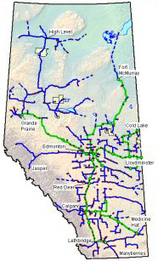 The Alberta SuperNet was built to connect public institutions across the province – schools, hospitals, colleges, universities, libraries, and municipal offices – to a broadband network for high-speed Internet access, video conferencing, and other services. It's a network of fibre cables and towers currently reaching 429 communities across Alberta.
The SuperNet is designed to cover Alberta's 661,000 km2 and serve its population of 3.5 million people, including the 1 million who live in more rural and remote communities.
As well, the SuperNet connects Alberta's urban and rural communities. This bridges the traditional "digital divide," which promotes both competitiveness and rural economic development.
Click headline to read more–
See on www.servicealberta.ca